Celebration Bermuda Grass
now browsing by category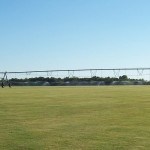 We provide turf grass services and products in north-east Texas, including Natural Grass, quality sod and sprigs. We deliver to Dallas/Fort Worth, Tyler, Longview, and Texarkana.
All sod off our farm comes freshly cut, healthy, and treated for weeds and diseases.
We are licensed producers of the #1 Bermuda grass sod in the industry: 
Celebration Bermuda Grass!
Celebration Bermudagrass has been chosen to sod five of the stadiums for this year's World Cup 2014 in Brazil. The five facilitates scattered throughout the country include the site of the finals; Estadio Maracana in Rio de Janeiro. Celebration was selected for its wear tolerance and recovery and also for its ability to handle more shade than most other Bermuda varieties.