Equipment For Sale:
Sold Sold – Water Well Drilling Rig For Sale: $5500.00 – Sold Sold!!

Fully hydraulic high torque top head drive unit with forward and reverse rotation, fast and efficient, and easily operated, everything is accessible and convenient. The 60″ power mast is hydraulically raised and lowered. it comes with 200 feet of high strength drill stem with wide thread couplings, (Not Converted Water Pipe), bits, mud pump and mud mixer. This rig is now located in Wharton Texas.

The manufacturer is Hydra-Fab. It is a BoreMaster. The Unit needs a small tractor with a PTO to run it. It is in very good condition and drills nicely. The mud pump is just a 2″ mud pump from the local hardware store, it is almost brand new, been used only once or twice. Last time the rig was ran was last summer. Yes it rotates as its goes up and down. It rotates in forward or reverse. Don't know what brand the dill pipe is but the lengths are 5 feet. There is around 200 feet for drilling. Bits are showing in the pic's, and if you look closely the picture with the drill stem is showing two more. I don't remember all the sizes. I am in Africa now on a mission trip but feel free to call the office @ the number listed for details.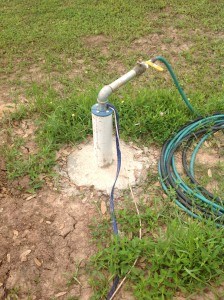 Pages: 1 2